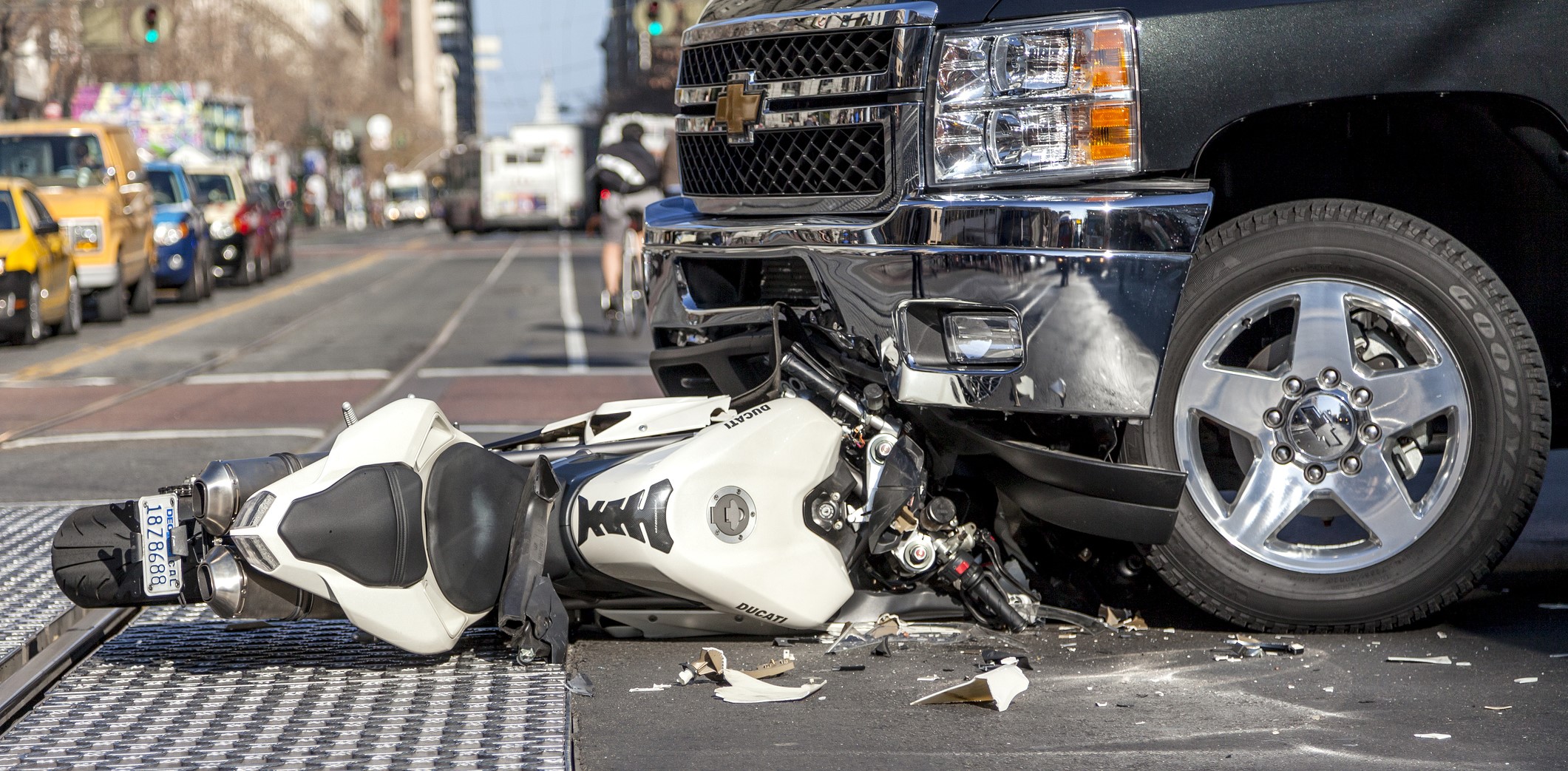 Banks Law Group: Motorcycle Accident Lawyers
Motorcycle accidents, while similar to general motor vehicle accidents, differ significantly in regards to injuries. Motorcycles have very few safety features to help prevent serious injury in a crash. As such, a minor incident can be completely life altering. Motorcyclists are often defenseless against the many hazards of the road, such as severe weather that leads to hazardous road conditions or negligence of other motorists.  Without the protection of a vehicle frame, a motorcyclist is subject to serious, permanent injury from even the smallest of collisions.  Often times, those injuries are to the head, brain, and spinal cord and can cause life-long pain, suffering, or even death.  Our experienced motorcycle accident lawyers will investigate thoroughly to ensure you get the compensation you deserve for your injuries.
If you have been involved in a collision while riding your motorcycle, you may be entitled to recover monetary damages from the other driver.  Following a motorcycle accident, it is important that you act quickly to ensure that your rights are preserved.  The Banks Law Group, is experienced in assisting injured cyclists and passengers with securing their rights following a car accident.  Contact the Banks Law Group team of motorcycle lawyers, to speak with an experienced motorcycle accident lawyer if you or someone you love has been injured in an motorcycle accident.
Your Title Goes Here
Your content goes here. Edit or remove this text inline or in the module Content settings. You can also style every aspect of this content in the module Design settings and even apply custom CSS to this text in the module Advanced settings.
What to do when you've been involved in a motorcycle accident
If you've been in a motorcycle accident, the best advice is to stay calm.  Then:
If you've been injured, contact 9-1-1 immediately for medical assistance.
If you're able, move your bike to a safe place and activate your hazard lights.
Contact the police – even if the accident is minor.
Get the other driver's information, including his/her:
driver's license number, insurance provider and policy number, license plate and registration information, etc.
Do not sign or admit to anything – even if you believe you may have been at fault.
Take notes and pictures, if possible, to refresh your memory later.
Contact your insurance company.
Contact one of the experienced Motorcycle Accident Lawyers at the Banks Law Group. 844-815-9632
The Process
If you've been injured in a motorcycle collision, you may be entitled to the recovery of monetary damages from the negligent driver.  This is done by proving that the accident was the fault of the other driver.  Proof of negligence is essential.  The experienced motorcycle accident lawyers at the Banks Law Group, know the importance of identifying and contacting witnesses, interviewing police officers and other first responders, and, when necessary, retaining accident reconstruction experts.
Accident-related medical expenses and wage loss benefits are considered "no fault" damages, and are covered by your own insurance company regardless of the cause of the accident.  Benefits for pain and suffering and other non-economic losses are "fault"-based, and the negligent driver is responsible for compensating the victim for his/her losses.
After establishing that the other driver is liable for your injuries, the next step is to demonstrate and quantify the seriousness of those injuries.  This is done by compiling the records of your crash-related medical treatment and contacting your doctors.  It may even be necessary to retain economists, doctors, or life-care planners as experts to fully explain and document the extent of your injuries.  The motorcycle accident lawyers at Banks Law Group, will handle all of these matters for you, in order to ensure that you are compensated for all of your injuries.
Even a simple motorcycle accident can present many complex issues of both law and fact.  Contact one of the experienced motorcycle accident lawyers at the Banks Law Group, to ensure that your rights are protected.
Common Injuries
Injuries from motorcycle accidents are as varied as the accidents themselves.  However, there are several common types of accident injuries.  They range in severity from the relatively minor, which will heal on their own in a few days, to the extreme: loss of life.  Even a minor accident may result in permanent damage and disability.
Road rash.  Even a low speed collision can result in severe road rash.  While many riders may be able to walk off the road rash, chalking it up as a danger inherent to cycling, you may be entitled to compensation.
Lacerations & Contusions.  Minor cuts and bruises will resolve within a few days of injury; but deeper lacerations may require surgical repair and result in permanent scarring.  Deep bruises, similarly, may be more serious hematomas, which can last for years.
Fractures.  Broken bones are a common result of a motorcycle accident.  A simple breaks will generally be treated with casting followed by physical therapy to strengthen the surrounding muscles in order to regain strength and full range of motion.  More serious breaks, such as a compound fracture where the broken bone erupts through the skin, may require surgery to repair.  You may require an orthopedic specialist to ensure full recovery.
Spinal Injuries.  Whiplash is caused when your head and/or neck are moved forcibly outside their normal range of motion.  While whiplash can resolve in a matter of days, it may also trigger serious neck problems, either by itself or by aggravating a pre-existing condition.  Spinal injuries can result in intense pain, referred pain and numbness in your limbs and face, and permanent or temporary paralysis.
Internal Injuries.  The impact of the crash may cause damage to your internal organs.  These injuries are serious and should be treated promptly.
Concussions & Traumatic Brain Injuries.  Any blow to the head may cause swelling in the brain.  These injuries are not always noticeable, and if you believe that you struck your head in a collision, you should inform the medical responders immediately.  Symptoms from such injuries do not always manifest themselves immediately, and you may require monitoring to ensure that you did not suffer more serious damage.
If you were injured by the negligence of another driver, each of these injuries can be serious enough to warrant compensation.  Contact the Banks Law Group, to ensure that you are fully compensated for your injuries. Our team of motorcycle accident lawyers can assist you every step of the way.
Why are good people choosing Banks Law's team of motorcycle accident lawyers?
At Banks Law, we fully understand that each case presents a unique set of facts, problems, and options for resolution. From the outset, Banks Law commits itself to providing each client with a thorough understanding of the case before them by answering every question and exploring all available options. We achieve this goal by personally dedicating ourselves to an in depth, hands-on approach that has a proven track record of positive results. Here is what some of our recent clients have said about us:
"It was an absolute privilege to have worked with Matthew Banks and to have been represented by him. His superb attention to detail, problem-solving ability, communication and negotiation skills, and legal prowess make him among the best lawyers we have encountered. Matthew earned the respect of all parties throughout our court proceedings, building an atmosphere of mutual respect and understanding which ultimately resulted in the most desirable outcome for all parties. There is no question that we will use Matthew Banks again for future legal proceedings. He has my utmost respect and highest recommendation to anyone searching for the most professional and effective legal representation." – S.Z
"The most reliable person I have ever met, as an attorney and a friend. Unfortunately when I needed a lawyer at one of the worst times of my life, I was extremely lucky to meet Matt. He explained everything to me in a way I could understand. He was extremely knowledgeable and answered every question I had. I would recommend him to anyone e I know. If I ever need his services again, there is no question, I would consult him again and again." M.N.
"You Want This Guy On Your Side! Matt has now helped me out a couple of times, and each time has been very successful. He is always extremely honest and informative, and was able to get me to learn to relax. When Matt tells you that he will take care of something, you can trust that he will do so quickly and effectively. If you need a professional lawyer that you can count on, Mr. Banks is certainly the man you want!" N.B.
Do not hesitate and wait, take control of your legal situation. Allow Banks Law's team of motorcycle accident lawyers to assist you every step of the way. Contact Attorney Matthew B. Banks directly at 844-815-9632 to evaluate your options.